"A portrait should be deeper than a physical likeness – it must distill the essence of the character"
My style as an equestrian artist and portrait painter is built on anatomical accuracy, then keenly observed nuances, individual details, ignite life into my work to produce the most outstanding likenesses.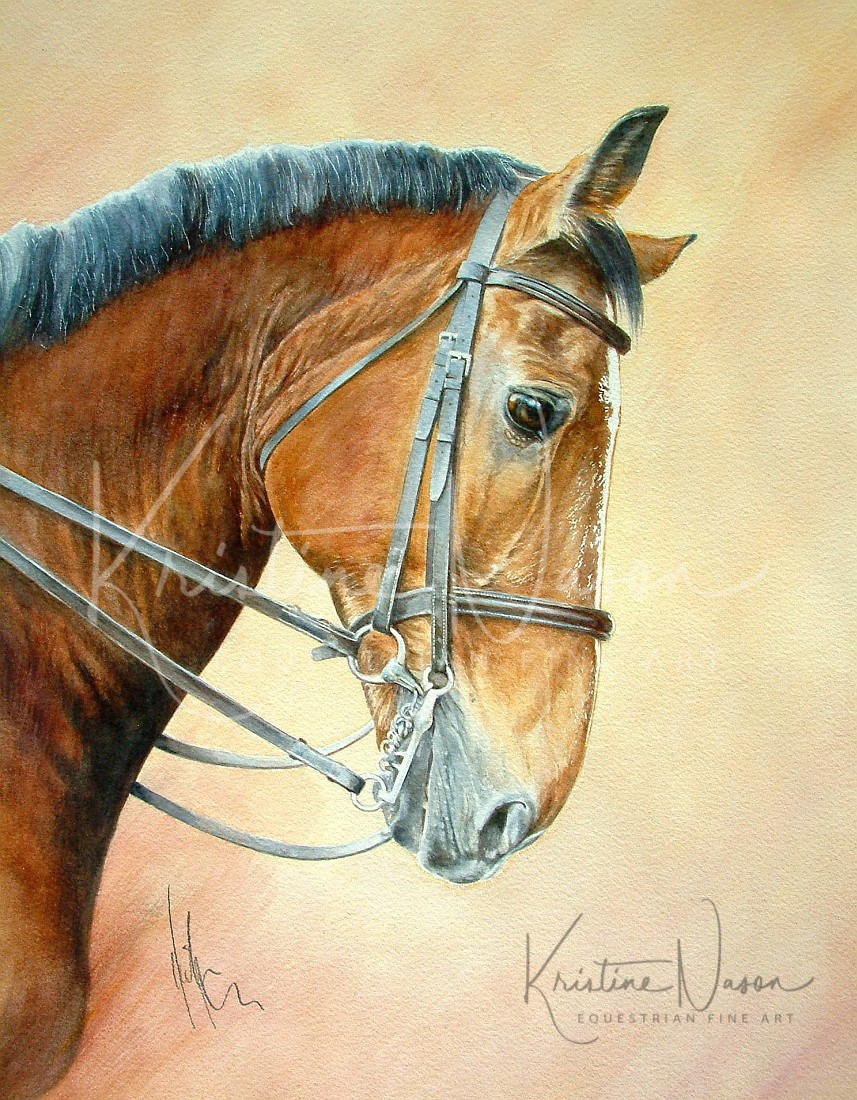 I specialise in portraits in watercolour or monotone (using pencil and/or charcoal). These mediums are equally sensitive and beautiful, and whichever one I'm working in I always guarantee to capture a likeness.
Commissioning a portrait doesn't have to be as expensive or complicated as you might think. With years of experience in this field I aim to make the process accessible, and the experience a rewarding one for all concerned.
Works in pencil or charcoal start at £500 for an image size up to 36 x 26 cm.
The price for any portrait is determined by its' complexity and the TIME I need to spend creating it, so when you contact me we'll establish a few details first. For instance I'll need to know the medium, size, number of subjects and most importantly the degree of detail that you prefer – you'll have noticed that some of my work is very detailed and some of it is very sketchy – tight detail takes much longer to achieve. I'll also need to know if you can supply good reference material or if you want me to take photos to work from (more info on this below).
When we've discussed your individual requirements and the options available I can give you a definite price and timescale for creating your artwork.
Asking for a quote doesn't commit you to anything, but it starts the conversation and gives you some idea of what to expect, so…
…if you're interested in commissioning a unique and special work of art featuring your horse, please read through the information below, then get in touch.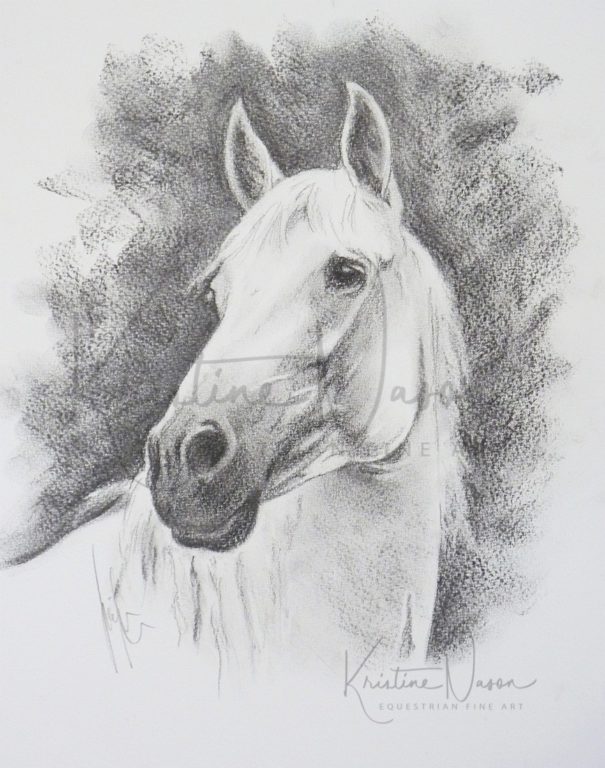 This is an example of a 'sketchy' portrait in charcoal, unframed image size 27 x 20 cm, guide price £500
At the top is a highly-detailed watercolour portrait, unframed image size 42 x 32 cm, guide price £2,300
Good photographs are my main reference material for portraits. I much prefer to meet the horse and take those photographs myself as it allows me to get a thorough understanding of the personality and features that I'll be working with. This helps me to decide which elements to emphasise in the portrait.
Of course a face-to-face meeting isn't always possible, particularly when distance makes travel costs prohibitive, or if the portrait is required posthumously. In these instances I need your BEST photograph to work from which must be a good, clear, *copyright-free image on which I will base the pose and composition. I also need any additional photographs and relevant information that you can supply, to help me 'get to know' your horse. TELL ME YOUR STORY. When I accept a portrait commission I always guarantee to capture the likeness so I will never accept a commission unless I feel I have enough information to produce a portrait that you and I will both be happy with.
*If a professional photographer has taken the main photo that you want me to work from, I'll be unable to use it unless you can supply a Copyright Release Statement from them, because the photographer owns copyright to the image. For a small fee most photographers will be pleased to grant you usage but it's up to you to get that first.
I usually add some shading or a colour-wash to complement the subject, but most of my portraits have little or no background detail. If a more complex background is required the work will take longer to complete and the cost will increase accordingly.
Please contact me if you would like to see some of my original work, and do check the Studio Blog section of this website to find out if I have work in a current exhibition you could visit.
Waiting Times
An estimated completion date will be given to you when I quote for your portrait. If you want the artwork as a birthday or anniversary surprise I'll do all I can to have it ready in time, but please be aware that I always have a waiting list. There will usually be at least six months between booking and delivery, so please make your booking in plenty of time!
If I'm unable to complete a gift portrait by the required date, once the deposit has been paid I can supply you with a Certificate stating that the work has been commissioned, together with a card featuring one of my images to give to the person for whom the portrait is intended.
Terms of Business on Commissioned Works
A 40% deposit is required on commissioned works. This payment secures the quoted price for a period of six months, and books you in to my schedule.
When the commission is ready I will send you an image of the finished piece, and the outstanding balance must be paid before the work is dispatched, or on collection. Carriage within Mainland UK is FREE, other destinations will be charged at cost.
If you would like me to take photographs of your horse/s, photographic and travel expenses are NOT included in the price of the portrait and must be paid on the day that photographs are taken. A photographic shoot of up to 90 minutes is charged at £100. Travel costs to a client's home/stables etc. will be in addition to this and calculated according to time spent plus expenses incurred. All photographs taken by me remain my intellectual property unless a separate agreement is made. However, when I take photographs for a commissioned portrait I do supply the client with one or two high resolution images from the photo-shoot Free of Charge for their own unrestricted use.
Framing
Commissioned portraits on paper are supplied in a plain mount, but unframed. If required I can arrange to have your portrait framed for you: prices according to framer's charges incurred.
Occasionally I use commissioned images for advertising and promotional purposes, such as on my website and social media, as outlined in the COMMISSION AGREEMENT signed by both parties at the outset. No prints or other commercial merchandise will ever be made using images of commissioned artworks unless this is something desired by both parties and is subject to a separate written and binding agreement.